Life changed drastically for most people on the planet in 2020.
We all received a fast-tracked education on everything, from remote work and video calling to social distancing and personal hygiene.
With handwashing and mask-wearing becoming the normalised thing to do, 2020 has nailed home the importance of protecting ourselves and those around us from contamination.
New Zealand managed to escape the worst of Covid-19, with a hard lockdown letting us live our lives with relative normality. This is particularly striking as we watch the rest of the world struggle.
But despite our success, we are by no means immune. The virus can still find ways back into our society. We must be prepared. 
Stopping COVID-19 with technology
HeiQ Viroblock is an innovation born out of this necessity.
This antiviral treatment can be used on a variety of textiles – such as masks, clothes, and linens – to kill viruses and bacteria. Including the virus that causes COVID-19.
Sounds intriguing, doesn't it! Here, we explain what HeiQ Viroblock is and how it works.
HeiQ Viroblock is an antiviral, antibacterial fabric treatment. When it's added to fabric during the manufacturing process, it fills the material with antiviral and antibacterial properties.
Coronaviruses such as COVID-19 (and other bacteria and viruses) can stay infective on surfaces for several days. And they don't just lurk on surfaces like rubbish bin lids and shopping trolley handles. Fabrics are just as risky as other household objects.
While wearing a mask may help reduce the risk of virus transmission, the mask itself can potentially transfer the virus from its surface. There are a lot of opportunities for someone to unknowingly pass the virus over to their mask; when they're picking it up, putting it on, adjusting it, taking it off, or disposing of it.
However, fabric treated with HeiQ Viroblock – from hospital gowns and masks to t-shirts or bedding – reduces 99.99% of the virus on the surface of the material in less than 30 minutes, making masks safer and more effective.
Naturally, rigorous tests have been done to ensure the treatment is truly effective. The latest testing took place at the prestigious University of Melbourne and The Royal Melbourne Hospital. The results were definitive: a 99.99% reduction in the infectious virus on the treated fabric in comparison to the untreated control.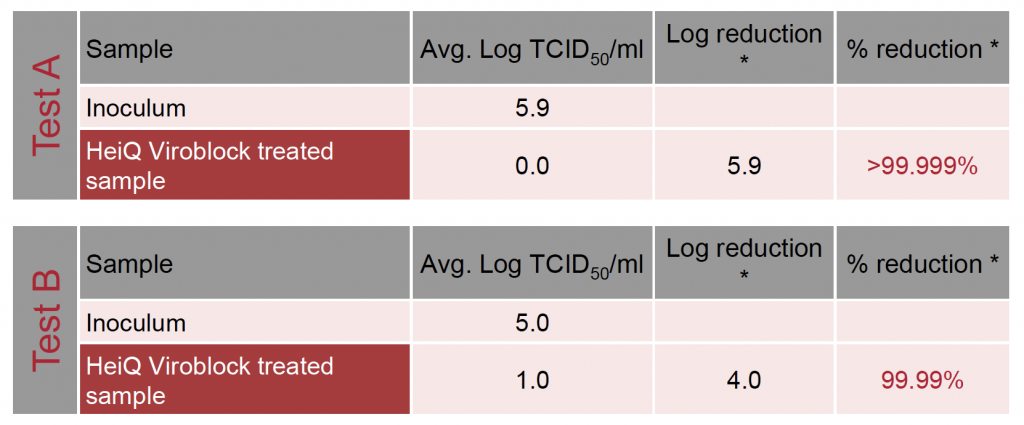 How Does HeiQ Viroblock Work?
Certain types of bacteria and viruses, including the coronavirus family, are known as enveloped viruses. HeiQ Viroblock uses unique silver antimicrobial technology and vesicle technology to destroy these enveloped viruses.
How does it work?
It all comes down to attraction. The silver molecules from the HeiQ Viroblock attract virus molecules because they have an opposite charge. Then, the silver permanently binds itself to sulphur groups that are in the virus. 
This gives the second part of HeiQ Viroblock, the vesicle technology, a chance to kick in. Liposomes start work depleting the membrane of the virus of its cholesterol content and quickly destroying the virus. This all takes just a few minutes.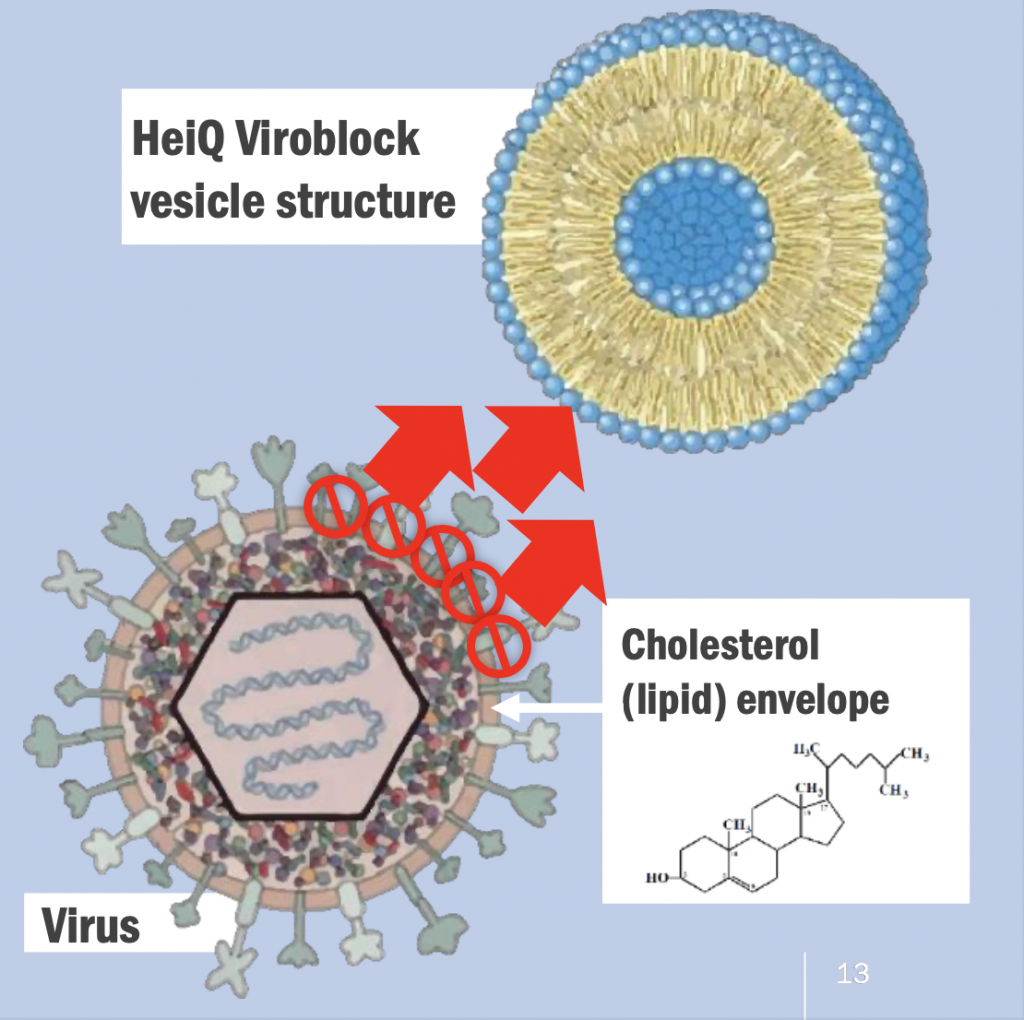 This treatment doesn't just work on fabrics used for masks and gowns. It's equally effective with fabrics used in clothing and textiles used in the home, such as curtains, mattresses, and even upholstery.
HeiQ Viroblock even remains effective after fabrics have been washed. It lasts up to 30 washes at 60 degrees or less. This makes it a great option for workplace masks like our LOOP™ Workwear range. It even works well on uniforms, as well as face and neck gaiters. 
These are all things that we can supply at LOOP™ Workwear.
The manufacturers of HeiQ Viroblock have undertaken vigorous testing to ensure the product is as safe as it is effective.
All ingredients used are cosmetic grade, bio-based, and recycled. Plus it's even hypoallergenic. 
They are also PFC-free water repellent. PFC's (per- and poly-fluorinated chemicals) are man-made chemicals that are often used in water repellent products but are harmful to the environment.
The treatment is EU REACH and US FIFRA compliant, OEKOTEX certified, ZDHC, and bluesign homologised. Any treated textiles are compliant with EU BPR and USEPA. HeiQ Viroblock FFP2 respirator masks are US FDA approved. [source]
LOOP™ Customer Workwear And HeiQ Viroblock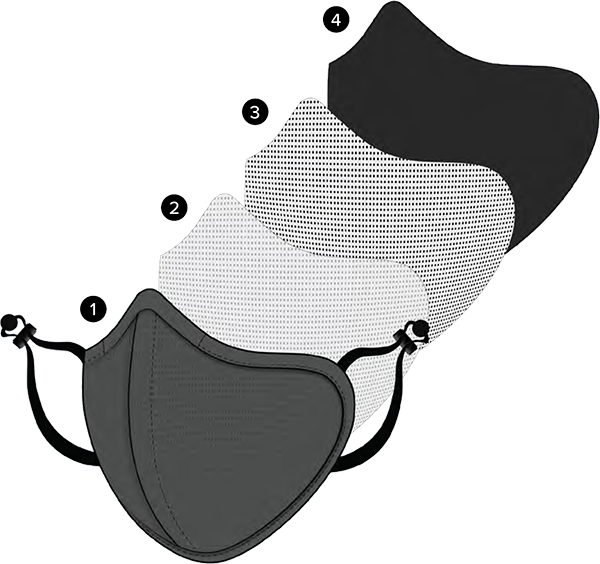 Here at LOOP™ Workwear, we believe that strong protection for your team is the number 1 priority. That is why our masks are created from the scientifically proven HeiQ Viroblock treated fabrics. Not only do they keep your team safe, but they're also friendly to the environment!
We are New Zealand's sole supplier of HeiQ Viroblock face masks, the highest quality Viroblock product. They have been proven to kill 99.99% of COVID-19 particles that come into contact with them. These masks are effective for up to eight hours of use and are fully washable. 
We have these in adults and children's sizes, various colours, as well as a silk range for working in hot conditions. 
We also supply HeiQ Viroblock treated face and neck gaiters as well as a range of touchscreen gloves. 
Even better than that, we can fulfil custom orders or uniforms treated with the formulation. This can be on any fabric or design, so feel free to reach out if you have something in mind that you would like to be given the HeiQ Viroblock treatment.
Get in touch with us today to discuss how HeiQ Viroblock and LOOP™ Workwear can protect your team.
This product cannot be shipped or sold in the US.