Traditionally, a large amount of workwear is made from polyester.
It is a durable material that is both lightweight and strong. As well as all that, it is easily printable and simple to care for.
BUT (and this is a big but)… it is absolutely horrendous for the environment.
It is so bad, that the chemical laden production process produces huge amounts of harmful emissions and it adds to landfill waste all over the globe.
Fortunately, it's not all bad news.
Here at LOOP™ Workwear, we have developed a range of workwear made from 100% recycled polyester.
Yes, that's right. Our workwear range has all the benefits of regular polyester with a fraction of the impact on our earth.
Read on to find out more about the power of recycled polyester.
What is Recycled Polyester?
Recycled Polyester is a fabric that is made from 100% PET bottles. Yes, all those milk, water and soda bottles that are famed for clogging up waterways and floating out to sea are responsible for creating a fabric that is every bit as durable and strong as standard polyester. But, there is one difference. This is a synthetic fabric that is reducing rubbish in our world. It means items that would usually be deemed as plastic waste get to have a respectable second purpose. It takes 
33-53% less energy
 to create recycled polyester than standard polyester fabric. Plus, the recycled polyester process 
reduces water consumption by nearly 20%
 and creates 
30% less CO2 emissions
. Even better than that, our recycled polyester yarn meets the 
Global Recycling Standards
 (GRS), so is a 100% certified recyclable product. These international standards set the stringent requirements for a product to be truly deemed 'recycled'. They involve fully complying to certification requirements of 'chain of custody, social and environmental practices and chemical restrictions.' Basically, it is achieving the gold standard of recycled materials. This makes our
recycled polyester workwear
a practical and sustainable way to combat the global plastic problem.
How is Recycled Polyester Made?
The process of creating recycled polyester is both sustainable and fascinating!
Firstly, the core product (PET bottles) is thoroughly cleaned and dried. Then, the bottles go through a process that crushes them into a fine flake. Those flakes are then refined into a high-quality polyester yarn. The yarn can be dyed any colour and is used to create our entire range of 100% recycled polyester workwear.
That range includes t-shirts, polos, polar fleece, soft-shell jackets, vests, and Hi Vis designs.
The entire process is petrol-chemical free, completely cutting out the need for fossil fuels. It is a highly sustainable way to create a fabric that has been designed wholly with workwear in mind. The fabric is treated for moisture wicking to draw sweat away from the body and has an anti-bacterial finish to prevent odours.
This sustainable fabric option provides your staff with the highest durability and comfort available. And at the same time, it deals with our plastic waste, turning it into functional workwear.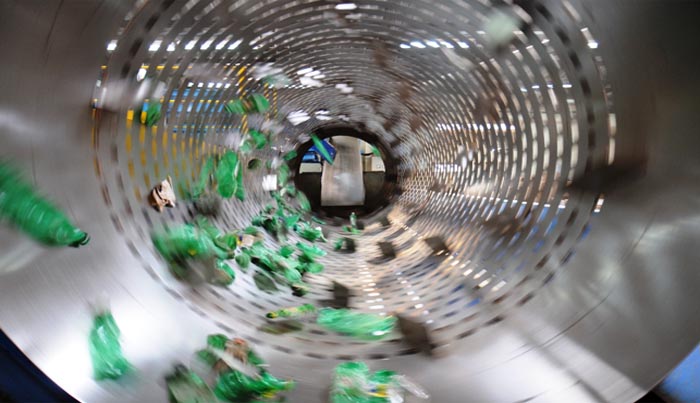 The Benefits of Recycled Polyester
The biggest benefit of choosing a 100% recycled polyester product is that everything associated with the creation process is friendly to the environment.
We are literally reducing the amount of plastic waste in the world AND reducing the number of emissions in the environment. The recycled polyester creation process eliminates the usual chemical laden production process.
There are also many other benefits for choosing a recycled polyester fabric:
Reduced plastic waste in a practical way
Adds to your sustainable brand message
An easy care, long lasting workwear solution for your team
Moisture wicking and antibacterial properties
Durability and fade resistance
In itself, our 100% recycled polyester is a great fabric. But, when you combine it with other fabrics in our range, it becomes a super option for all kinds of workwear.
We have the ability to layer recycled polyester with our 100% compostable Lyocell fabric, for overalls, trousers, jackets, vests and more. The two fabrics layer perfectly to create durable, comfortable, fade-resistant, easy-care workwear that lasts.
We can also offer a Bio Cotton/recycled polyester mix. By using certified GOTS organic cotton as the inner layer, you get all the natural benefits of cotton. That is then coupled with durability and colour-fast properties of Recycled Polyester to create the perfect workwear.
Would you like to know more about how you can make an impact on the world's plastic problem, simply by choosing recycled polyester for your workwear?
Then, get in touch with the LOOP™ Workwear team. We offer a range of sustainable workwear options that are easily customised to your business brand. Make the right choice for your team and for our environment. Drop us a line today.