Sustainable Workwear Uniforms are an important step in reducing waste that all businesses can participate in. Workwear clothing is a highly consumed product across all types of industries. Uniforms are an important part of a brands identity and enable businesses to ensure staff are presentable when dealing with customers. Also for some industries, it's an obligation as part of their health and safety for their employees. To be able to achieve this, and provide sustainable workwear uniforms is an absolute win – win for businesses, staff and the environment.
I think most of us can agree we need to make better choices around what we consume, more now than ever before.  We simply cannot continue to fill our oceans and land-fill with single use waste.  Or fibers that will not breakdown efficiently. Harming our waterways, soils and air.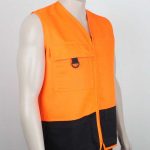 When i started to look at extending our uniform range to Hi Vis Workwear it was really important to me that I look at sustainable fabric options. I didn't want to offer sustainability as one option, but as my only option. That was in 2014, since then i have extended this to our range of corporate polos, workwear shirts and t-shirts. Giving you as a business owner or person of influence the opportunity to also take this step forward in changing what we see as the 'norm".
If you would like more information about our sustainable hi vis and workwear options, contact us and we will be more than happy to assist your business.
[contact-form-7 id="3623″]
Recycled Polyester – Giving Plastic A Second Chance In Sustainable Workwear
Polyester is an important fiber, especially for Hi Vis safety clothing. Holding it's luminescence far better than natural fibers in both wet and dry conditions.  Polyester is a fast drying, durable and fade resistant fabric.  So when looking for a sustainable workwear fabric options, it was an obvious choice to utilize recycled polyester. Knowing that it is at the very least giving plastic a second life, making one of many small yet significant changes we can all choose to make.
Made from recycling plastic (PET) milk and soft-drink bottles.  Recycled Polyester is an important step to removing the "one time use" philosophy we have adopted over the past 30 years when it comes to plastic waste.
All of our recycled polyester is certified by the Global Recycled Standard. Ensuring that all aspects of the production from making the cloth, dying of fabric and the production at the make factory. All follow sustainable and fair trade practices.  Making it one of the most comprehensive clothing standards.
To view our full range of Recycled Polyester Hi Vis Workwear click this link.
You will also find Recycled Polyester in our standard colours. Click this link to view our range of workwear polos in Recycled Polyester.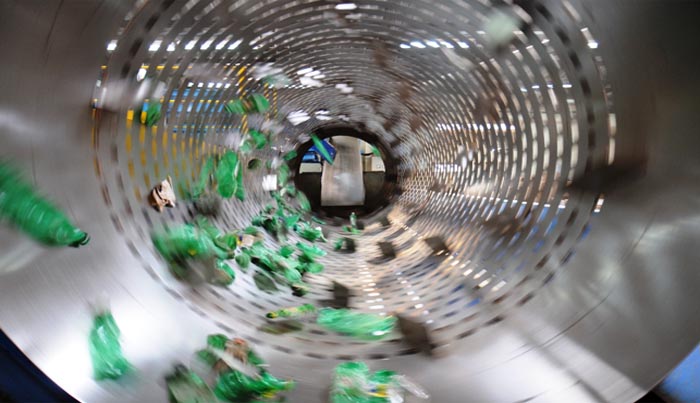 Bio Cotton – Organic Cotton With A Sustainable Synthetic Fiber
Bio Cotton is a textile industry term used for when Organic Cotton is mixed with more than 5% of a synthetic fiber in making a fabric.  This is because the term Organic Cotton can only be used when a garment is made 95% from only Organic Cotton.  So when we talk about a fabric being 60% Bio Cotton and 40% Recycled Polyester. You'll know that the Bio Cotton content is Certified Organic Cotton. There are enormous benefits to having this. Certified Organic Cotton not only assures you no harsh chemicals have been used, but that workers fall under fair trade rules.
All of the Organic and Bio Cotton that The Loop use in our work uniforms, is GOTS (Global Organic Textile Standard) Certified. To find out more about GOTS Certification click on this link.
Gaining Organic Cotton Certification involves more than the farming practice, but also your treatment of workers and their conditions. Ensuring the entire process from the farm to the dye lab and onto the make factory is all fair trade and follows responsible business practices. It also produces a far superior quality cotton as opposed to most standard cotton fabrics. Increasing it's comfort, durability and lifespan as a garment.
TENCEL™ – Naturally Breathable & Sustainable Workwear Fabric That Keeps You Cool.
Made from the wood pulp of fast growing trees. TENCEL™ is one of the worlds most sustainable fabrics that provides huge benefits to the wearer. Designed for active sportswear. It naturally draws moisture  away from the skin and keeps you feeling dry and has a cooling effect on the body. This is why The Loop Uniforms offer TENCEL™ fabric options in our TTMC compliant and AS/ NZS 1906.4 Hi Vis safety clothing.
As many work sites are moving to long sleeve, long trousers policy, all year round.  We have offered TENCEL™ with Recycled Polyester fabric options to combat working in hot conditions with a physical job.
TENCEL™ fibers offer a range of features including botanic origin, sustainable production, gentle feel against the skin, long-lasting softness, naturally anti-bacterial resulting in low odour retention and bacterial growth. Enhanced breathability, color retention and is a biodegradable fiber.
For more detailed information on TENCEL™ visit their website: https://tencel.com/
Merino Wool Uniforms. The Iconic Kiwi Super Fiber!
Merino Wool is a truly iconic New Zealand super fiber. New Zealand merino wool is globally recognized as a market leader in natural, sustainable fibers. It truly is second to none when it comes to choosing a sustainable workwear uniform for winter.
Merino is an ideal choice for winter uniforms. It is an incredibly warm fiber that is soft against the skin and easy care. Much like Tencel it is naturally odorless and breathable, requiring no chemical treatments unlike polyester. It's a very low maintenance fabric. Wash and wear, looks great with jeans and dress trousers. Making it a very versatile option for your staff.
All The Loop Merino Uniforms are made with locally sourced merino wool and are very proudly made in New Zealand.
To view our full range of Merino Uniforms follow this link: http://www.thelooponline.co.nz/product-category/corporate-uniforms/merino-uniforms/
If you would like more information about our sustainable hi vis and workwear options, contact us and we will be more than happy to assist your business.
[contact-form-7 id="11184″]