NZ Uniforms Design. How Local Knowledge Makes A Difference
The Loop NZ Uniforms design and manufacture corporate wear, workwear and hi vis safety clothing. With our own in-house uniform design and pattern making team. All our NZ Uniforms are designed specifically for local conditions, sizes and expectations. Any customization you require can be controlled by our pattern making team.
Understanding what local needs are for sizing, functionality and comfort are essential to providing a uniform solution that meets the diverse need of businesses. With over 40 years of experience, The Loop has a strong background in ensuring the fits and sizing meet local needs.
Control Of Sizing For True NZ Uniforms
In New Zealand we have a diverse range of ethnicity's and and age groups within our work force. So it is really important to cater to the size range and fits that we need. Once an initial design has been sampled and approved.  We grade all our own sizes based on what we feel are the sizes that are needed for NZ Uniforms.
Because we have our own pattern making software. We are able to supply our overseas manufacturers with our exact designs and sizing rules. This ensures that every production run is consistent. So last years Medium is not this years XL. This gives you piece of mind in re-ordering your business uniform as you need.
Accountability To Our Products
We are not a re-seller of brands. The Loop is our own range of uniforms and we 100% stand behind it. As we control all aspects of the production, we understand the processes and time frames needed to create uniforms from start to finish.
Local NZ Uniforms Manufacturing
Since 2004, The Loop has been manufacturing NZ made uniforms. It's where we started and we are really proud to continue this tradition. Today we still proudly make all of our 100% merino wool uniforms in New Zealand. To view our full range of NZ made merino wool uniforms click on this link. 
Along with our merino uniforms, with our in-house manufacturing facilities we produce our custom fits, odd sizes and prototype samples. Giving a fast turn around time for any urgent needs.  Also any adjustments to trousers or tops can be quickly altered.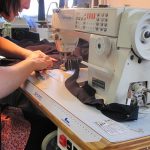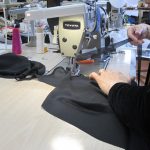 Manufacturing NZ Uniforms, It's In The Blood
As long as I can remember my family have been making clothing.  Growing up, people that came to my parents clothing factory. I often thought were and aunt or uncle, part of the family. I did eventually work it out, sharp as sharp thing… However i think that feeling of people coming in to see us as being part of our extended family still exists today.
The Loop Uniforms is a family owned business Thorntons Ltd. Thorntons was established in 1976 with Guy and Liz Thornton starting a clothing cutting business. Over time this evolved to full pattern making, sample making and grading for sport-wear and fashion brands. In 2004 son Brad (that's me) joined the business and started The Loop Uniforms. To bring what we do for fashion brands to businesses throughout NZ. For more about Thorntons and what we provide see: http://www.patternmakers.co.nz/
[contact-form-7 id="6836″]