How Forman Stopped 190kg of Plastic Waste Going to Landfill
What if you could reduce the amount of plastic waste going to landfill with your uniforms?
Uniforms are one of those things that you always have to buy.
So, why not choose a better option that does the job of clothing your team, but also makes an impact on the environment too.
With a simple order of 300 recycled polyester polo shirts, Forman Building Systems prevented 5400 plastic bottles from ending up in a landfill.
That's 190kg of waste originally destined for landfill that was repurposed into quality uniforms instead.
See how Nick Smith, Commercial Sales Manager of Forman Building Systems, did it here:
"When we first connected with Brad, we had basic uniform requirements.  We weren't happy with the uniforms we had at the time, so we were looking for something a bit different.  Brad's innovative thinking and environmentally friendly options really made sense to us.  It was a no brainer decision to engage LOOP™ Workwear to produce a run of uniforms for us."
Because uniforms need to be durable, hard wearing and long lasting, they are often made of some of the worst materials in the world.  Full of synthetic fibres, notorious manufacturing processes and harsh chemicals, they are no friend to the environment!
In fact, they heavily contribute to large amounts of nasty emissions, water wastage, chemical processes and landfill waste.
If you consider that one company alone can have hundreds of uniform items, you can imagine the impact that thousands of companies would have on little old New Zealand's environment!
That is why conscious decisions, like the one Nick made, about choosing a more sustainable option are vital for protecting the clean and green country that we love.
Recycled and Compostable Options
Traditional uniforms are made from synthetic fabrics like polyester. Polyester is horrendous for the environment – the chemical laden production process produces huge amounts of harmful emissions and it adds to landfill waste all over the globe.
But that is not the case here at LOOP™, all of our uniform options are sustainably produced and environmentally friendly. For Forman Building Systems, we are proud to supply branded polo shirts, hi vis plus and sweatshirts all made from recycled polyester, as well as compostable hi vis vests.
Recycled polyester helps to reduce the world's waster issues as it is made from 100% PET bottles. It takes 33-53% less energy to create recycled polyester than standard polyester fabric. Plus, the recycled polyester process reduces water consumption by nearly 20% and creates 30% less CO2 emissions.
"I just had one of those feelings when we engaged with LOOP™. The environmental aspect is huge for us at Forman Building Systems. Anything to do with reducing our footprint is big for us. We are making small changes in the short term that will have long term benefits for our company and future generations."
How Forman Reduced Waste With Their Uniforms
It is easy for businesses to be complacent about where they source their uniforms from as they are such a necessary item.
However, if you make a conscious decision to utilise a sustainable supplier, you can make a real environmental difference.
Each recycled polyester polo shirt contains an estimated 18 bottles.  So, in just one order, Forman Building Systems have managed to redirect 5400 bottles away from landfill and prevented 190kg of plastic waste from being created.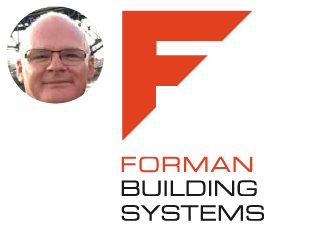 Quality Above All Else . . .
"While the sustainability piece is a huge consideration for us, we needed to ensure we weren't compromising on durability.  Brad has provided us with a product that is of the most amazing quality.  His sustainable options last longer than our old polyester uniforms did.  We have hardly had to throw any uniform items away yet.  But, when the time comes it is a huge weight off my mind to know that we were able to repurpose items destined for landfill or that the items will naturally break down, leaving no waste behind."