Big Men's Hi Vis Polo (6XL-9XL)
Big Men's Hi Vis Polo Shirts – 6XL-9XL
Big Men's Hi Vis Polo available in Orange/Black and Lime/Black. Extra long tail at the back, left chest pocket. Designed in New Zealand for our fits!
Made from certified 100% Recycled Polyester. Taking our plastic waste and re-purposing into functional Big Men's Safety Clothing.
Big Men's Hi Vis Polo Summary
Sizes 6XL-9XL.
Certified Recycled Polyester Made From PET Plastic Bottles.
AS/NZS 1906.4:2010
AS/NZS 4602.1.2011 – Day Only.
AS/NZS 4399 for UV protection.
Stock Colours: Org/Blk, Lime/Blk.
Anti-bacterial to prevent odours.
No pilling or curling collar design.
Panel at front to reduce dirt & stains.
Left chest internal pocket.
Re-enforced stitching.
Long tail at back.
Tested 5/5 for fade resistance.
Suitable for screen-printing or embroidery.
Designed In New Zealand.
Plastic Bottles Turned Into A Big Men's Hi Vis Polo
Made from melted down plastic milk and soft-drink bottles. Then refined into a high quality polyester yarn. Recycled Polyester uses no Petrochemicals in making the fabric and is giving our plastic waste a second use.
Treated for moisture wicking to draw sweat away from the body and has an anti-bacterial finish to prevent odours. Tested 5/5 giving an excellent rating for fade resistance under UV light. Recycled Polyester is a sustainable fabric option that provides your staff with the highest durability and comfort available. Follow this link to learn more about our range of Sustainable Clothing.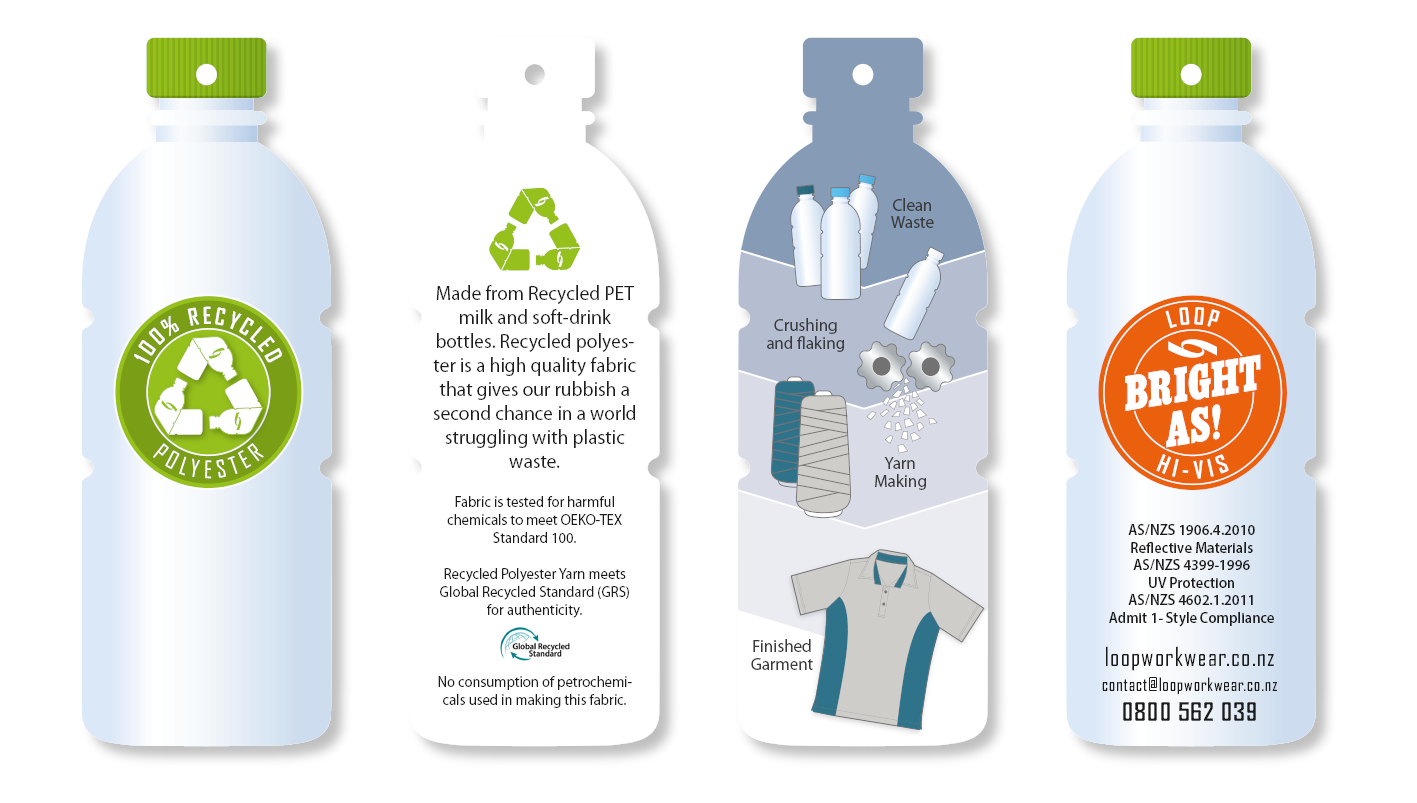 Meeting Hi Vis Standards In A Sustainable Way
LOOP™ Big Men's Hi Vis Polo meets AS/NZS 1906.4:2010 & AS/NZS 4602.1.2011 for Day Only use. UV protection meets AS/NZS 4399 standards. Day and Day/Night options available to suit your Safety Polo Shirt requirements.
Explore Popular Workwear NZ